HOLIDAY PASSPORT PACK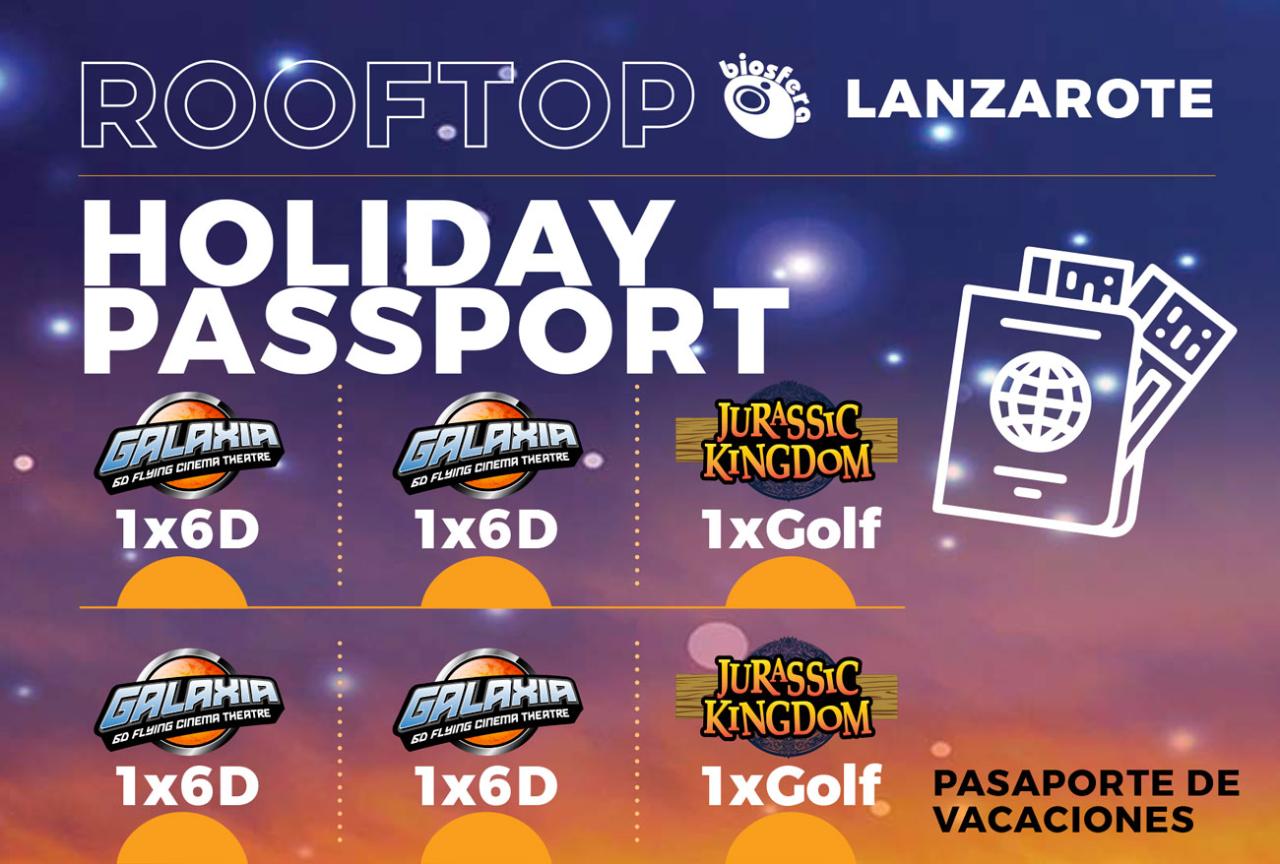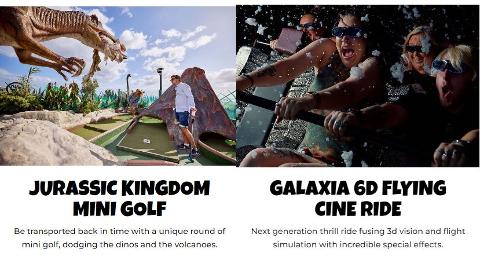 Kesto: 3 Tunnit (noin)
Paikka: Puerto del Carmen, Las Palmas
Tuotekoodi: HP
HOLIDAY PASSPORT PACK
(EN) includes : 2 x Rounds of Jurassic Kingdom Themed Mini Golf + 4 x Unforgettable 6D Galaxia Rides
(ES) incluye : 2 x Jurassic Kingdom Mini Golf + 4 Inolvidables Viajes Galaxia 6D Cinema
(EN)
Jurassic Kingdom Themed Mini Golf
Included in the Passport pack are 2 rounds of golf on our amazing Jurassic Kingdom adventure park
Take part in a gigantic game of interactive Mini Golf where Dinosaurs have been brought back to co-exist with humans. Play with stunning coastal views by day and fully illuminated by night, this pass allows you 2 rounds so you can come back twice on your holiday.
6D Galaxia Rides
The Galaxia 6D station is an immersive, next generation thrill ride blurring the line between fiction and reality. Fusing HD 3D media and flight simulation technology, this epic virtual reality motion ride theatre creates an experience unlike anything this planet has ever seen. Your heart will pound. Your survival instincts will be on overload!!!
Included In the passport pack are the following adventures:
- Island : Coaster simulator XD ride
- The Great Wall of China : 6-dimensional journey
- The Lost World : Dino Adventure
- The Speed Race : 6D car chase around the streets of Los Angeles
NOTES:

When you purchase the Holiday Passport for Rooftop Biosfera Lanzarote you will receive an electronic ticket via email which is coded with a personal QR code. To receive your Holiday Passport printed ticket, head to the ticket booth at Rooftop Biosfera to exchange your personal ticket QR code for printed tickets to enjoy your passes.
IMPORTANT!
Tickets can only be used once and the digital ticket code is valid for 60 days from purchase.
(ES)
Jurassic Kingdom Mini Golf
En el paquete Passport se incluyen 2 rondas de Mini Golf en nuestro increíble parque de aventuras Jurassic Kingdom
Participa en un gigantesco juego de minigolf interactivo en el que los dinosaurios han vuelto a coexistir con los humanos. Juega con impresionantes vistas de la costa durante el día y completamente iluminado por la noche, este pase le permite 2 rondas para que pueda volver dos veces en sus vacaciones.
Galaxia 6D Cinema Viajes

La estación de Galaxia 6D Cinema es un emocionante viaje inmersivo de próxima generación que difumina la línea entre la ficción y la realidad. Al fusionar los medios HD 3D y la tecnología de simulación de vuelo, este épico teatro de paseo en movimiento de realidad virtual crea una experiencia diferente a todo lo que este planeta haya visto. Tu corazón latirá. ¡Tus instintos de supervivencia estarán sobrecargados!

En el paquete de Pasaporte se incluyen las siguientes aventuras:
- Island : La Isla - viaje en simulador de montaña rusa XD
- The Great Wall of China : La Gran Muralla China - viaje en 6 dimensiones
- The Lost World : El mundo perdido - Dino Adventure
- The Speed Race : persecución de coches en 6D por las calles de Los Ángeles
NOTAS:
Al adquirir "Holiday Passport Pass" para Rooftop Biosfera Lanzarote recibirás por correo electrónico un ticket electrónico codificado con un código QR personal. Para recibir tu ticket físico, dirígese a la taquilla de Rooftop Biosfera para canjear el código QR de tu ticket personal por tickets físicos para disfrutar de tus pases. ¡IMPORTANTE! El código solo se puede usar una vez y es válido por 60 días a partir del día de la compra.